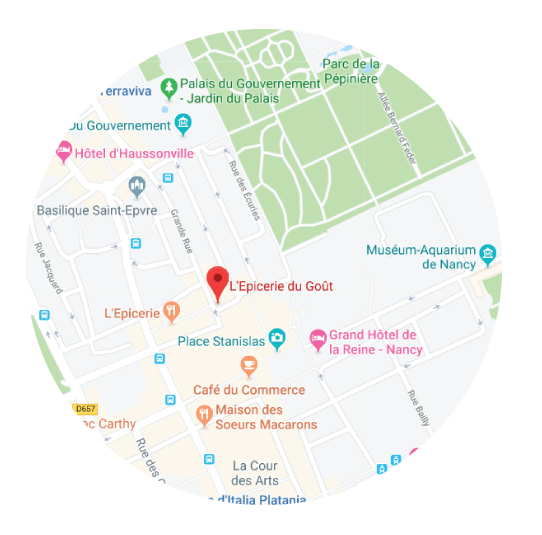 L'épicerie du goût se situe sur la petite place Vaudémont, à deux pas de la Place Stanislas (il suffit de prendre la direction indiquée par la Statue de Stanislas et de tourner à gauche avant ou après l'Arc Héré – normal quand on sait que Stanislas aimait beaucoup manger et que ses cuisiniers et pâtissiers auraient créé la pâte feuilletée, les bouchées à la Reine, la madeleine, le baba…), en bas de la Rue Gourmande (rue des Maréchaux) ou vous trouverez de nombreux restaurants & bars, juste à côté de la place Carrière, non loin du Parc de la Pépinière – véritable poumon vert de Nancy – du Musée des Beaux-Arts avec une collection Daum à couper le souffle, de l'Hôtel de Ville, mais aussi à l'entrée de la Ville Vieille avec ses nombreux hôtels particuliers Renaissance, la Porte de la Graffe, le Palais Ducal… Autant de lieux incontournables pour découvrir la beauté du patrimoine historique, culturel et culinaire de notre belle ville.
Coordonnées GPS de l'épicerie du goût: Latitude : 48.6942 | Longitude : 6.18213 Altitude : 208 m
Nancy est une ville d'Histoire, avec un ensemble 18° classé à l'Unesco, une vieille ville Renaissance et aussi le berceau de l'Art Nouveau.
Pour tout savoir sur Nancy, RV sur le site de l'Office de Tourisme, situé dans l'Hôtel de Ville place Stanislas, à deux pas de l'épicerie du goût… nous sommes partenaires du City Pass Nancy, qui vous permet de visiter Nancy en toute tranquillité en profitant d'offres privilégiées.
Nous faisons partie des Vitrines de Nancy, dont nous acceptons les chèques cadeaux.
Plus globalement, la Métropole du Grand Nancy vous accueille avec son slogan "Nancy, votre place est ici".
Nancy est en Meurthe & Moselle… préparer votre visite s'impose sur le site de #tourisme54 s'impose – avec Lunéville, Toul, la Colline de Sion… les vins AOP Côtes de Toul la Maison de la Mirabelle, le Musée Français de la Bière de St Nicolas de Port (Marie est présidente du Club des Buveuses de Bières à Talons Aiguilles de Lorraine !).
Enfin, encore plus largement, beaucoup de nos produits viennent des autres départements lorrains (Meuse, Moselle et Vosges), n'hésitez pas à aller vous renseigner sur ces destinations sur le site Lorraine Tourisme ou Massif des Vosges;
L'épicerie du goût ? L'épicerie du bon goût lorrain !
Nancy is a city of history, with an 18th century district  listed at Unesco, an old Renaissance city and also the cradle of Art Nouveau.
To know all about Nancy, go on the website of the Tourist Office, located in the Town Hall Place Stanislas, close to our shop… we are partners of the City Pass Nancy, that allows you to visit Nancy quietly by enjoying privileged offers.
We are part of Vitrines de Nancy, whose gift certificates we accept
More generally, the Métropole du Grand Nancy welcomes you with its slogan "Nancy, your place is here" (the place to be!)
Nancy is in Meurthe & Moselle department… preparing your visit is a must on the website #tourism54 – with Lunéville, Toul, Sion… the AOP wines Côtes de Toul,  la Maison de la Mirabelle, the Musée Français de la Bière de St Nicolas de Port (Marie is president of the Club des buveuses de Bières à Talons Aiguilles de Lorraine!)
Finally, even more broadly, many of our products come from other Lorraine departments (Meuse, Moselle and Vosges), don't hesitate to go and find out about these destinations on the Lorraine Tourisme or Massif des Vosges website;

The grocery store of taste? The grocery store of good taste lorrain!