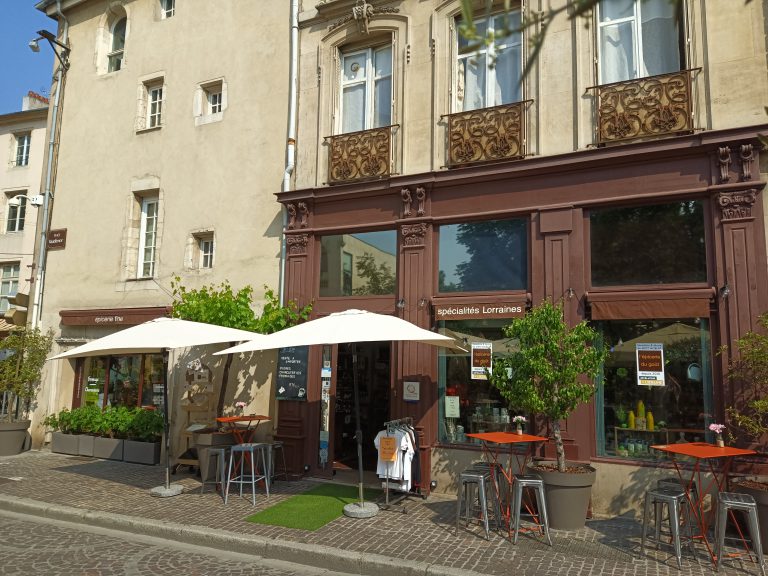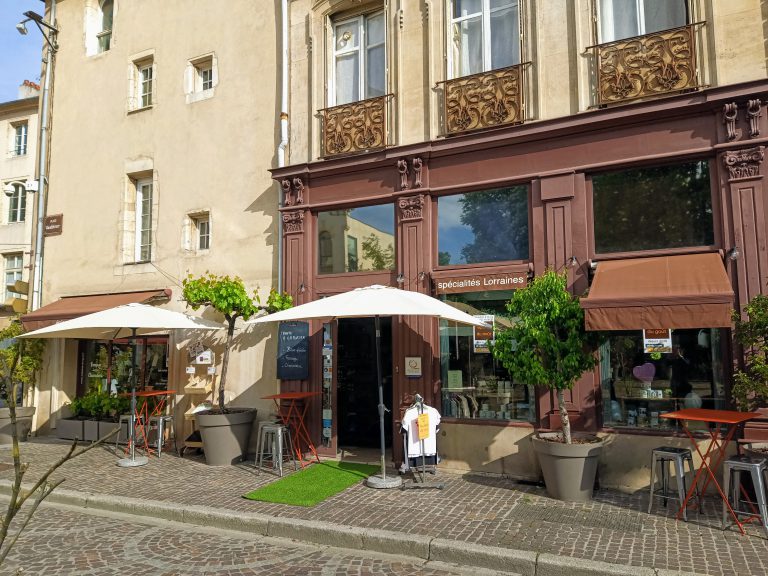 Précédent
Suivant
Les terrasses du goût
De fin mars à fin septembre (sauf jours de fermeture de l'épicerie), vous pouvez de 11h30 à 14h30 vous asseoir tranquillement sur la terrasse devant la boutique (nous sommes en zone "piétonne" où seuls les riverains ont accès en voiture) pour déguster des spécialités lorraines comme un pâté lorrain et une quiche lorraine avec leur salade (et une vinaigrette maison à tomber, dixit nos clients, normal quand elle est faite avec de bons ingrédients comme la moutarde Fallot), mais pas que ! Selon l'arrivage du marché, la saison, la chaleur ou la fraîcheur, une ou plusieurs suggestions du jour vous sont proposées par Bénédicte – vous avez compris que c'est elle la cheffe : salade de lentilles au jambon à l'ail des ours, terrines de la mer, salades de pâtes, feuilleté de chèvre etc…
En dessert, que diriez-vous d'une crème ou d'un yaourt d'un petit producteur bio meusien? Et pour les plus gourmands, d'un café ou d'un thé "gourmand" ?
Pour le samedi, il est préférable de passer réserver…
From end of March to end of september (except when the shop is closed), from 11.30 am to 2.30 pm, you can sit quietly on the terrace in front of the shop (the street is closed to traffic) to taste Lorraine specialities such as a pâté lorrain and a quiche lorraine with their salad (and a homemade vinaigrette that is to die for, according to our customers, which is normal when it's made with good ingredients such as Fallot mustard), but that's not all! Depending on the market, the season, the heat or the freshness, one or several suggestions of the day are proposed by Bénédicte – you understand that she is the chef: lentil salad with ham and bear's garlic, seafood terrines, pasta salads, goat's cheese puff pastry etc…
For dessert, how about a cream or a yoghurt from a small Meuse organic producer? And for those with a sweet tooth, a coffee or a "gourmet" tea?
For Saturday, it is preferable to make a reservation…